So after 3 years to write it,  2 years to edit it, 1 year of ignoring it off and on, and now 2 months of learning the publishing side of Amazon, I can finally say it's here!
I Wrote a Book!
It's called:   TwentySomething: Surviving the Ten Most Important Years of Your Life.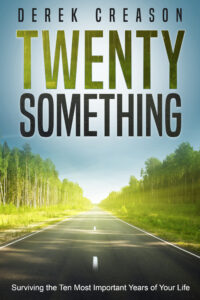 You can get it on kindle or paperback at Amazon. Here's the highlights from the back cover.
How do I navigate the ups and downs of college? What kind of career do I want? How do I know if I should marry this person? What kind of faith or morals should I have in my twenties? Should I be investing or have a budget? What about the military? How do I deal with death and other negative emotions? Should I already have life and career goals? What kind of mindset and work ethic do I need to be successful? How do I figure all this out on my own?
These are the issues and questions that almost every young adult will have to work through in their twenties. My book offers advice based on my experiences both good and bad regarding the subject matter from a Christian perspective. My goal is to give twentysomethings a framework or friendly advice that they "just couldn't listen to from their parents" and help them navigate some of life's difficulties a little easier. Sometimes that involves brutal honesty from an outsider who is willing to challenge you to think deep and hard about life issues. Young adults will enjoy a few laughs as well as the refreshing honesty of another young adult trying to pay it forward and pass along some valuable lessons learned along the way.
Aimed at young adults aged 18-30 TwentySomething offers simple, yet profound advice based on the experiences of my life and passing along that knowledge in the form of "If I knew what I know now at 29 when I was 23, I would have saved myself a lot of grief/heartache/trouble, etc."
The Backstory:
I got this idea while riding on a plane in 2016. I jotted down chapter ideas in my email and it grew from there. I would work on it occasionally and hammer out a chapter. Sometimes I would take months long breaks from it. Sometimes I forgot about it. I like the process of creativity, however inspiration is not always consistent. Throw in a busy life, and some of the chapters cover hard emotional topics, so it took a while to get it out of my brain and onto paper.
Then comes the practical side of being creative. Do I publish? Do I throw it away? Am I trying to monetize this? Does anyone really care what I have to say? What if people don't like it? etc, etc.
In the end, it takes a long time to put the doubt and fear away and realize a few things. Being creative is a part of who I am. I must continually learn to not base my self-worth or sense of accomplishment based on what others think of me. Good or Bad. There will always be fans and critics of anything you create and put out into the world, whether it be music, books, podcasts, art, etc. So I'm going to continue to be creative and put my work out there for others as often as I can convince myself to do so. If other people receive joy or learn something from it, then great! If not, I will shrug it off and drive on with my life and continue to be creative.
All that to say, I'm extremely excited and proud to put this out there! I hope this book can help some young kids in their twenties to figure out some of life and help them be more successful. Go pick up a copy and check it out!
TwentySomething: Surviving the Ten Most Important Years of Your Life
Later,
Derek